This animal is available at Marin Humane Society
Email: adoptions [at] marinhumanesociety [dot] org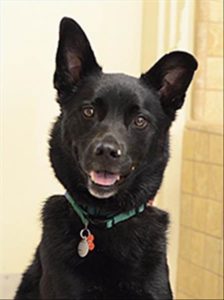 Ziggy 213423
Breed  Shepherd/ Border Collie Cross
Sex   Male
Color Black / White
Weight 62.4 lbs
Neutered
Age   6Yrs 3Wks
Where can you find me?             
I am at the Marin Humane Society location.
Phone (415) 506-6225
Fax (415) 382-1349
Address 171 Bel Marin Keys Blvd. Novato
No dogs or small children
A Little Bit About Me
Ziggy may bark when you first see him in his run but he's just letting you know how much he wants to meet you. Once he sees the harness and leash and he realizes he is going for a walk he quiets down in anticipation. Ziggy likes people and will greet them with a soft and wiggly body. He walks very politely on leash, without a lot of pulling. And he is super smart and quick to learn. He knows sit and down plus the ever popular shake!
Ziggy is not fond of small children and would like to avoid them just as he would like to avoid other dogs. When he first gets near a dog he may give a bit of a growl or a bark to warn him away. After that he will move away and work to ignore them as much as possible. He best new home will have dog-savvy adults and children over 12 and no other dogs. For his own happiness he should be kept away from dog parks.
Ziggy needs plenty of fresh air and exercise. He likes to play fetch and go on long hikes. He is the dream companion for an active, outdoorsy family.
Adoption Center: (415) 506-6225
The Marin Humane Society
171 Bel Marin Keys Blvd., Novato, California 94949